Rocky Coulee Brewing
June 10, 2012 - 11:50 AM
First off, Rocky Coulee Brewing is located in Odessa, Washington: an impossibly cute little town trapped beautifully in time. It is straight out of a Norman Rockwell painting. Odessa stands as a reminder that most Americans once lived this way. It is also the fulfillment of a promise: life is still honest, slow and simple in certain, increasingly rare rural pockets of America. You will want to hug Odessa as if she is your grandma. You will want to pinch Odessa on the cheek like a ruddy-faced little boy.
Tom Schafer's great grandfather was a German immigrant that settled in Odessa and built a farm. A lifelong resident of Odessa, Tom is proud to tell you that he still has the original deed to the land, signed by President Teddy Roosevelt. Tom is right to be proud. In America few people have such a strong tie to the land. Tom and his family are a part of this place, not merely residents. They still work the farm his family homesteaded more than 100 years ago. They also operate Rocky Coulee Brewing.
The Rocky Coulee Brewing Company has a 15-barrel brewhouse and produces close to 500 barrels per year. They do very little distribution. You can find Rocky Coulee beer at a few spots around the tri-county area (Grant, Adams and Lincoln counties), and in a few locations in the Spokane area. Every Friday, from 2:00 until 10:00, you are welcome to stop by the brewery's tap room to enjoy a pint or pick up beer to go. Beyond that, you're out of luck.
Tom Schafer is a farmer turned brewer. I guess his Germanic blood got the better of him. He apologized for the brewery being a mess. It wasn't. It was one of the cleanest, best-organized breweries I've seen. He told us about his distribution chain, which amounts to little more than an agreement to get his beer to Spokane, which is just 90 miles to the east. The tasting room includes a few barstools, a couple of tables, and a patio seating area. Like the town of Odessa itself, Rocky Coulee Brewing serves the larger farming community that surrounds it.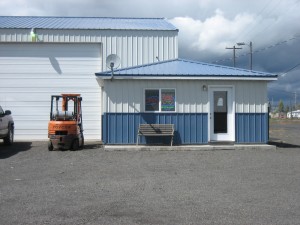 Away from the brewery, there is just one place you are sure to find Rocky Coulee's beer: the annual Washington Combine Demolition Derby, which takes place 30 miles south in Lind, WA. Apparently it is a famous event, covered by ESPN and Playboy. So we are told. I can't really explain it, but the thought of locally-produced craft beer—brewed by a local farmer—being poured at a combine demolition derby somehow makes me insanely proud to be an American.
Rocky Coulee Brewing
205 North First Street
Odessa, WA 99159
(509) 750-7921
map
rockycouleebrewingco.com
Hours
Friday, 2:00 p.m. - 10:00 p.m.